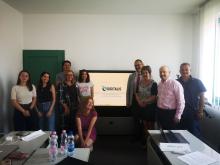 Digitalis project partners organized their 3rd progress meeting in Gödöllő, Hungary between 5-6 July, 2023. The event was hosted by the Hungarian partner organization Prompt, and aimed at overviewing the project results achived and planning activities for the following project phases. The Partnership also discussed project management issues with regard to quality management and promotion of the results.
During the meeting, partners presented the state of art of each training module they were developing and got an insight to the e-learning platfrom created for the course.
The partner meeting closed with the session of the Steering Committee that resoluted the dates for the following progress meetings.