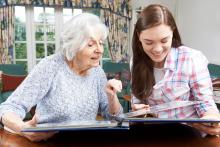 This project result addresses the following needs:
There is a huge market of the tele-care tools and applications offered for caring older adults, but the offers differ country-by-country. For developing a learning content and course relevant for informal carers, there is need for an overview on the digital existing tools and to make an adapted selection of them.
There is no statistics (or only a few figures) on the level of digital skills of informal carers, especially because of the wide scale regarding their professional background. The same is true on the question how far they are aware and how far they are using digital tools in caring older adults.
This PR, aiming at designing a shared digital healthcare services and skills methodology among the partnership to assess the informal caregivers digital needs, will have the following specific objectives:
Objective 1: to get a clear picture about the present level of basic digital skills of female informal caregivers (FICs) in the target countries;
Objective 2: to define and validate a list of digital tools widely used by FICs in the piloting countries (Greece and Hungary) to care of the older adults that have in charge;
Objective 3: to determine how far the FICs are aware of the potential of the new, sensor-based technologies, digital monitoring and telecare systems.
By assessing the digital needs of the FICs this PR will primarily target those specific learners. The analysis material and tangible outcomes that will be delivered from this PR will be also exploited by the partners of the project to enable a tailored definition of the training content to be created in PR2.